Our Center:
Hoʻokō LLC is a private Counseling Center newly founded in 2013 and is located in the heart of Central Oʻahu.  The name Hoʻokō is derived from the Hawaiian language and is defined:  to fulfill, to complete, come to pass, to succeed. It boasts the concept of becoming pregnant, as with an idea, and in this case was birthed through the vision of Dr. Kaulia.
Dr. Kaulia had already established her own private practice (Grace Works, LLC) and had been delivering services for over a decade, when she decided to further her reach into the community. She had always known that her life's purpose was to do counseling work, and ultimately, to help and bring healing to others. With her previous experience, coupled with the calling to effect change in more lives, Ho'okō was forged.
Hoʻokō LLC has the trademarked symbol of a kalo or taro plant encompassed by hands that reach out to cultivate it.  Our desire is to provide support from the planting of a seed in one's life to the maturation of it.  This idea is encapsulated in the thriving of the kalo plant whose very life and process is contingent on the hands that care for it.  So it will be for those who come through the doors of Hoʻokō LLC.
Given that Hoʻokō LLC is spiritually birthed, it is driven by the mission to "fulfill lives through counseling."  Hoʻokō LLC endeavors to provide the highest standards of clinical and ethical therapeutic services to individuals, couples, families and groups of all demographic backgrounds.  In providing these services, our goal is to have people exit services in a more evolved and changed way than they arrived.
Our Organization:
To deliver the most efficacious services, Hoʻokō LLC has a management, administrative, and clinical team.  Please see our staff profiles below:
Management Team:
Rhesa Kaulia, PhD, MFT, CSAC, EMDR, CPTT, has a Doctor of Philosophy in Marriage & Family Therapy, is a Licensed Marriage and Family Therapist, a Certified Substance Abuse Counselor, a Certified EMDR & AF-EMDR Therapist, a Certified Partner Trauma Therapist, and an AAMFT Approved Supervisor.  Dr. Kaulia founded and is President of Grace Works LLC, as well as is the co-founder and President of Ho'okō LLC.  Both are private counseling centers. Dr. Kaulia has experiences that span a number of environments, including working in mental institutions, prisons, drug programs, in-homes, schools, churches, non-profit organizations, and with the military. Dr. Kaulia has specialized focus in the Autism Spectrum, multicultural and indigenous populations, trauma, faith-based counseling, couples and marriage therapy, and working with the Family Court on divorce and child custody cases. Dr. Kaulia recently participated in the Field Trial Studies for the development of the DSM-5. Dr. Kaulia uses a combination approach of cognitive-behavioral and experiential therapy to produce solution-focused results.
---

Kharen Siores is the Billing Manager for Ho'okō LLC. She has been doing medical claims and billing since 1994, and had worked for a high volume orthopedic supply company. She graduated from Heald College in Medical Office Administration. Kharen speaks fluent Tagalog (Filipino). She loves to travel and enjoys meeting new people. In her spare time, she likes to volunteer her time studying the bible with others.
---
Jacob Heffernan, MFT is a Licensed Marriage and Family Therapist and Clinical Supervisor. This local boy has over 17 years of experience working in the mental health field with diverse populations and age groups. Jacob has served in various roles within the state and private sectors to help people in their homes, communities, residential facilities, and public schools. Jacob uses an integrated approach when working with individuals, couples, and families, which typically includes components of Cognitive Behavioral, Gottman Method, Mindfulness, Narrative-Solutions, and Experiential theories. He is passionate about strengthening families, couples, and individuals to live healthier and more fulfilling lives.
---
Clinical Team:
Ning Feng, MS is a graduate of the University of Oregon and has completed her Master's degree in couples and family therapy. She has experience working with children, individuals, couples, and families. In her clinical work, she has experience working with patients struggling with grief and loss, trauma, anxiety, and couple conflicts and enhancement. Ning uses a theoretical approach that includes elements from Bowen Family Therapy, Emotionally Focused Couples Therapy, Gottman's approach in couple relationships, and other family system models. Ning's approach toward therapy includes treating each individual with respect and dignity, valuing diversity, fostering hopefulness, and providing strength-based treatment planning. Ning is fluent in Cantonese.

---
Dinah Ugalino, MFT, CSAC is a Licensed Marriage and Family Therapist and a Certified Substance Abuse Counselor.  She has been working in the mental health field since 2009 and has worked with various populations to include substance abuse, military, individuals, couples, families, and children/adolescents.  Dinah's approach to counseling involves being open and responsive to diverse cultures, genuine care, acceptance and non-judgment.  She uses a variety of theoretical approaches to include cognitive-behavioral, narrative, experiential, motivational interviewing, client-centered and solution-focused therapy.  Dinah is dedicated to helping individuals, couples and families better their lives through healing and change.
---
Joanne Lam, MFT is a Licensed Marriage and Family Therapist who has been working in the mental health field since 2008.  She has worked in settings which include drug and alcohol treatment programs, intensive in-home services, domestic violence shelters, residential programs for adolescents, and the military.  Her expertise is in working with children and families through parenting education, parent-child therapy, family counseling, and individual therapy.  Joanne uses an integrative approach in counseling which include Narrative, Cognitive-Behavioral, Solution-Focused, Client-Centered, Experiential, and Family Systems theory.  Joanne is passionate in helping individual and families reach their fullest potential and maintain a healthy lifestyle.
---
L. Kalani Chung, MFT is a Licensed Marriage and Family Therapist who has been working in the mental health field since 2000. He has provided therapeutic services in numerous settings which include community, home-based, and inpatient/residential substance abuse treatment centers. Kalani has worked with a variety of populations, and has experience working with individuals, couples, and families with numerous crisis challenges (i.e. mental illness, adolescent conduct disorder, substance abuse). Kalani is focused on helping others improve their lives and relationships.
---
Derrin Fukuda, Psy.D. is a Hawaii-born clinical psychologist who, for the last 11 years, has provided therapeutic support to a wide range of individuals struggling with an array of mental health issues. Although passionate about working with adolescents and children, Derrin's breadth of inpatient/outpatient experience provides him with a solid foundation to work with families, adults, and individuals within a group setting. He has 5 years of experience conducting comprehensive psychological evaluations for children and adolescents in addition to his therapy practice. An integrative psychologist, he works primarily from a Cognitive-Behavioral theoretical background, drawing from attachment theory, developmental psychology, and trauma-informed care. Derrin understands that the choice to seek out therapeutic intervention is incredibly difficult and yet, one of the most significant.

---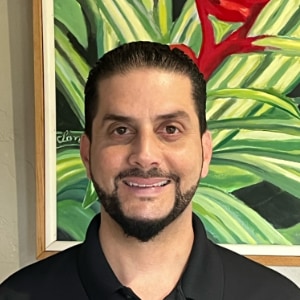 Alie Muhsin is a graduate of Chaminade University of Honolulu. He is a licensed Marriage and Family Therapist and Registered Play Therapist. He has worked in a variety of settings such as schools, agencies, community health center, and private practice. He specializes in individual, couples, and family therapy. His therapeutic approach is to provide support and counseling to help clients effectively address personal life challenges. He uses a variety of theoretical approaches such as Solution-Focused, Psychoeducational, and Cognitive Behavioral. He is committed to assisting client's build on their existing strengths and live their best life.
---